Item request has been placed!
×
Item request cannot be made.
×
Processing Request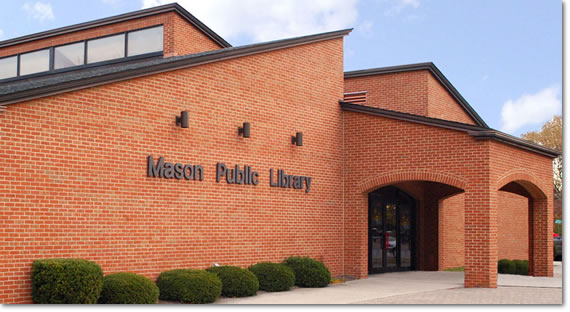 The Mason Public Library can trace its beginnings to 1957, when a group of citizens asked the Lebanon Public Library Board of Trustees to establish a branch in Mason. The branch opened a year later with a core collection of 3,000 books. In 1962 the library was moved to a larger location on Main Street.
Citing increased demands from a growing population , a group of citizens in 1975 gathered 1,500 signatures on a petition asking the state legislature to allow Mason to establish its own library. Two years later, thanks to a $100,000 bequest from Mason resident, Orville Parkhill, and to the efforts of state representative Corwin Nixon, the legislature passed a bill allowing the city to set up its own library district. The legislation, Ohio House Bill 80, allows a municipal corporation of less than 25,000 to set up its own library district and be eligible for intangible tax funds if a minimum of $100,000 is made available from designated bequests for the establishment of a library.
Groundbreaking for a new, 8,000 square foot facility at 200 Reading Road took place in May 1979. A year later, the new library opened, boasting a collection of 13,887 books and 4,345 registered patrons.
Today the library holds approximately 650,000 physical items, provides access to over 1 million digital items, and has more than 60,000 registered patrons.
Its summer reading program, which runs June through July, has a membership each year of more than 1,500 children. The library offers computer access to the Internet, wireless internet access, outreach/homebound services, interlibrary loan services, voter registration, Golden Buckeye Card registration, and a host of other services.